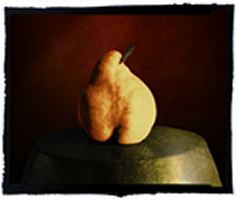 Barry Podwell, sole proprietor of Firenze Trattoria restaurant in Encinitas, started his professional career as a rock 'n roll drummer. A native New Yorker, Podwell enjoyed performing as a freelance drummer with musical groups at posh resorts in upstate New York's Catskills Mountains.  He also played on Broadway in the orchestra of Grease and, for a short time, he played with Manhattan Transfer
Podwell moved to Los Angeles and dabbled in real estate sales, renovation and remodeling. His entrepreneurial skills led him to the novelty business where he and his wife partnered to develop and sell "liquid light" – the vials of a green substance that can be seen waving around at rock concerts. After five years of selling promotional items and real estate in Los Angeles, Podwell grew tired of the big city, "L.A. reminded me too much of New York City." So he floated southward to San Diego to begin his next adventure.
Podwell's entrepreneurial fantasy had always been to open a restaurant. His knowledge of real estate served him well as he researched the restaurant business in north San Diego County. After a year and a half, he landed on a vacant site in east Encinitas that included a charming patio area. Here, Podwell created the love of his life, Firenze Trattoria, an elegant but homey Italian eatery reminiscent of a Tuscan villa. Firenze Trattoria became an immediate local success.
"I have always had a passion for great Italian food," said Podwell. "To have a place that locals feel as comfortable in as their own living room, where they celebrate occasions or stop by for a good meal after a busy day, that's my great joy."