Firenze Trattoria at TripAdvisor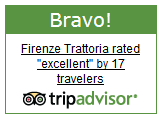 Travelers have been very enthusiastic about Firenze Trattoria on TripAdvisor. Click Here to read our reviews! Or better yet, tell us and the world what you think about Firenze Trattoria, San Diego's Italian Restaurant.
---
Reviewed May 13, 2014
Finally went with the flow and started happy hour and when Barry does it, he does it right…..choice of any drink and small bar portions (his usual portions are large enough to share) so going there for happy hour a bargain and includes Saturday night.
---
Reviewed February 9, 2014
I had the pleasure of experiencing the sumptuous, happy hour at Firenze on a recent Thursday evening.They offer an extensive menu of appetizer delights,and a full bar including everything one might be looking for from wine,beer to cocktails.I had a most refreshing,tasting Basil-Citroen martini.New to the menu,it greatly appealed to me and and to a few patrons sitting at the…
---
"By far my favorite restaurant in San Diego!"
5 of 5 stars Reviewed January 31, 2014
I am a retired businessman. When I had my company, I demanded excellence from my business, employees, and especially myself. This is why Firenze is my favorite restaurant. Excellent service, fantastic quality, wonderful atmosphere. Great place to relax and enjoy a meal and take as much time as needed, never feeling rushed. The staff remembers me each time I go…