Join Us For New Year's Eve 2013!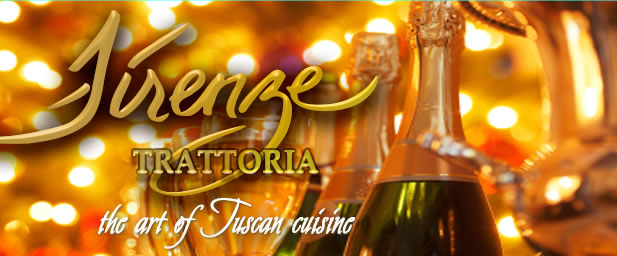 Celebrate New Year's Eve 2013 in Tuscany This Year
……………………………
We are featuring our special Firenze New Year's Menu. A tantalizing array of our favorites, plus some very special suprises. Salad or soup, principale, and topped off with special desserts.
Make your reservations today, since we book up early.
Primi
Insalata Radicchio
arugula, spinach, mushrooms, carrots, and broccoli all served on a bed of radicchio and topped with gorgonzola and pancetta
Calamari alla Firenze
calamari delicately placed in mushrooms with a sauce of cognac, garlic and butter
Zuppa di Vongole
Manila clams sauteed in white wine and garlic with diced tomatoes and capers
Butternut Squash Soup
fresh butternut squash pureed with just a touch of cream
Principale
Vitello Chop alla Griglia
14 oz bone in veal chop grilled and finished with a creamy gorgonzola sauce. Served with garlic mash potatoes and fresh asparagus.
Seabass Campagnolo
seabass sauteed in olive oil, white wine, roasted garlic, shitake mushrooms, asparagus and light marinara. Served over spaghetti
Lasagna di Mare
layered with ricotta cheese, seabass, shrimp, scallops and calamari topped with aurora sauce
Surf and Turf
filet mignon brushed with olive oil and herbs grilled,  accompanied by a lobster tail lightly brushed with butter and broiled
Pollo di Alba
chicken breast stuffed with cream cheese, prosciutto and porcini mushrooms, then dipped in egg and flour and sauteed in white wine and garlic.  Served with pasta and seasonal vegetables
Black Winter Truffle Risotto
risotto tossed with porcini, shitake and button mushrooms topped with black truffle mushrooms
Dolce
Tiramisu
Mango Sorbet
Baked apple-cranberry bread pudding
Cookies & cream gelato
A great way to ring in the New Year, all for $65.00 per person.