Happy New Year 2015! Special Menu!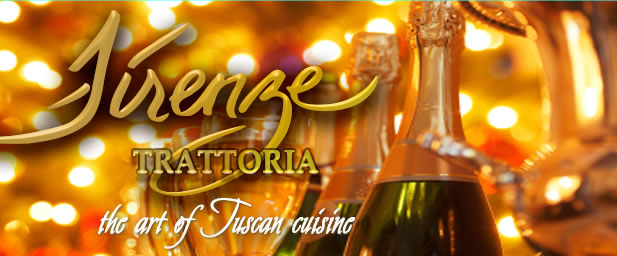 Happy New Year 2015

……………………………
We are featuring our special Firenze New Year's Menu. A tantalizing array of our favorites, plus some very special suprises. Salad or soup, principale, and topped off with special desserts.
Make your reservations today, since we book up early.
Primi
Insalata Radicchio
arugula, spinach, mushrooms, carrots, and broccoli all served on a bed of radicchio and topped with gorgonzola and pancetta
Caviar Crustini
toast points served with caviar
Insalata Caesar
romaine, garlic and parmesan croutons tossed and topped with shaved parmigiano-reggiano
Shrimp Bisque
shrimp, onion, garlic, cream, cayenne, brandy and a touch of tomato sauce
Mozzarella Caprese
fresh mozzarella di bufala, tomato, basil and extra virgin olive oil
Principale
Vitello Chop alla Griglia
14 oz bone in veal chop grilled and finished with a creamy gorgonzola sauce. Served with garlic mash potatoes and fresh asparagus.
Lasagna di Mare
layered with ricotta cheese, seabass, shrimp, scallops and calamari topped with aurora sauce
Surf and Turf
filet mignon brushed with olive oil and herbs grilled,  accompanied by a lobster tail lightly brushed with butter and broiled
Lobster Risotto
Lobster and asparagus sautéed with shallots in a brandy cream sauce baked with risotto
Pollo Parmigiana
chicken breast lightly breaded and sautéed then topped with mozzarella and light marinara and baked
Melanzane Rollatini
thinly sliced eggplant rolled and filled with ricotta, pine nuts, fresh Italian herbs and bread crumbs topped with marinara sauce and mozzarella then baked
Dolce
 Chocolate Lava Cake
Tiramisu
Chocolate Covered Strawberries
$65.00 per person